ProCare Upper Arm Blood Pressure Monitor measures blood pressure along with pulse rate with the automatic easy-to-use one-bottom measuring technique. It has a unique desktop design for practical home, office, or clinical use that makes it convenient to utilize and store
– Intelligent Automatic Measurement
– WHO Classification
– Large LCD with Intelligent Voice
– Memory can store 2×99 measurements
– Adapter with Universal Cuff
– Warranty 02 Years
– Origin China
Product Description
LARGE DISPLAY: The conveniently designed blood pressure machine has a large LED display featuring a white backlight which gives a clear view of the blood pressure readings, date, and time..
EASY-TO-USE: The simple and easy-to-understand interface of this machine can be easily operated by anyone, saving time and money of individuals who earlier relied on doctors to perform the check-up..
UNIVERSAL SIZE: The cuff of this BP digital machine can easily fit arms with a circumference between 8.7″ – 6.5″..
COMPACT DESIGN: The machine has a compact design which makes it suitable to be carried along in a backpack or kept on top of a desk in an office, your home or clinic..
INTELLIGENT MEMORY: The intelligent memory of the upper arm blood pressure machine can store up to 90 measurements in its universal cuff..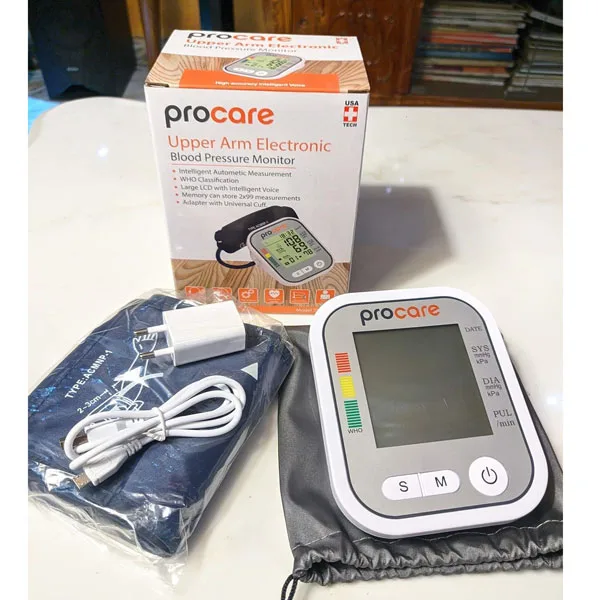 One-Touch Operation
Intelligent Automatic Measurement
WHO Classification
Large LCD with white Backlight
Memory can store 90 measurements
Universal Cuff
Powers off automatically
Features an Irregular Heart Beat Indicator, as well as a low battery indicator
Others Features of ProCare Blood Pressure Monitor :
Lightweight and compact, ProCare Upper Arm BP Monitor fits easily inside backpacks or purses.
The user-friendly interface will have you taking accurate measurements moments after opening your package.
The Universal cuff comfortably fits arms with a circumference from 8.7″ – 16.5″ (22cm – 42cm). It is ergonomically designed to
provide precision and comfort during the measurement process.
It's so simple to use, even a child could operate. Simply put it on and press "ON" to start reading. A large LED screen makes it
easy to read. 90 measurements allow you to keep track of your blood pressure prices.
Compare the readings of the past days, so that you take steps to prevent unpleasant surprises Perfect for traveling, and take it with you wherever you go: to work, to the gym or anywhere. Take control of your health with the ProCare Upper Arm Blood Pressure Monitor.
Included in the box:
* Upper Arm BP monitor
* Universal Cuff (8.7″ – 16.5″)
* Carrying Bag
* USB Cable Addaptor
* Illustrated User Manual in English & Spanish