Features:
1) Description:

Items No. : JH-158
bte amplifier hearing aid speaker

2) Feature:

bte amplifier hearing aid speaker
Adjustable volume
ON / OFF switch
Easy operation
Comfortable for either ear

3) Specification:

Max Sound Output:120+-5dB
Sound Gain:>=50dB
Total Harmonic Wave distortion:&aliimg.com/img/pb/069/713/497/497713069_121.jpg" alt="JH-158-106″ width="500″ height="500″ style="display: block; margin-left: auto; margin-right: auto;" ori-width="500″ ori-height3EInput noise:<= 30dB
Working voltage:D.C.1.5V
Working Current: <=4mA
Battery : 1 x AG5

4) Accessory:

2 X AG5 battery
3 X ear tip
1 X gift box

5) Manufacturer:

Name: HuiZhou JingHao Electronics CO., Ltd.
Main Products: Hearing Aid, Nebulizer
Services: ODM / OEM / According Sample

6) Warranty:
7) Certification:
8) Sample:

Available
Delivery within 3 days
Product Description
Description:
Find the smart solution for your Hearing Problem with Jinghao JH158 Mini Hearing Aid. Buy now one of our best Hearing Aid online at lowest price in Bangladesh.
Professional Jinghao hearing aids at low price (JH-158)
be amplifier hearing aid speaker
Description:
1.bte amplifier hearing aid speaker
2.Lound and clear amplified
3.CE Rohs
4.OEM available
5. cheap hearing aids for sale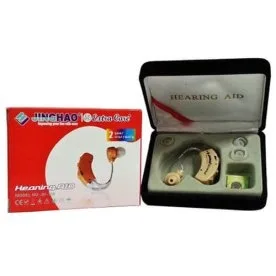 Fell free and call us for more information: 01988121212.
Medistore is first Medical Product based online store in Bangladesh. We are providing to you all kind of Medical, Surgical, Diagnostic, First Aid and beauty care product. World all famous Brand Medical Item in here. This Online store is provided to you Medical Product like- Branded Nebulizer compressor, Glucose monitor, Digital Blood Presser Monitor, Digital Weight Scale.